BIOGRAPHY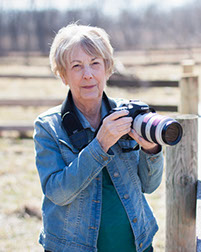 Jeanne Garrett, a mid-west based photographer, did not take a straight route to photography. With formal studies of photography at Barat College, she is primarily self- taught.
Early in her photographic life, she joined the staff of the Reagan/Bush campaign where she documented candidates on the campaign trail in Illinois. Her photos of the Victory '80 Bus Tour taken the day before the election were used in the final edition of the Reagan/Bush News.
After a corporate career in communications and marketing, she renewed her passion for photography and dedicated her creative life to personal photographic projects.
Garrett's renewed artistic connection to the landscape and environment became a theme of her photography. Her solo exhibit "ELEMENTS: Earth, Wind, Water, Fire" was held at the Brushwood Center in early 2020. Also in 2020, her work was shown in galleries and museums in Alabama, Indiana, Illinois, Kansas, New York and Texas. Her photography has won several awards including Director's Honorable Mention at the A. Smith Gallery. Several exhibitions included her images on exhibit announcements and calendars.
Since 2019, Garrett has participated in exhibits in the A. Smith Gallery, ARC Center, Art Center of Highland Park, Dandelion Gallery, David Adler Music and Arts Center, Freeport Art Museum, Koehnline Museum of Art, Midwest Center for Photography, Old Court House Art Center, and The Next Picture Show gallery.
Other solo shows were held at The Metropolis Theatre, Moon Gallery, Friendship Village, and The Courthouse Gallery and Art Center.
Her work has evolved to include textiles, threads and metallics to create texture and visual interest using her photos as inspiration.
Garrett's photographs are part of private collections and she has been in publications including the Daily Herald newspaper, Birds and Blooms magazine, and websites of the BBC, National Geographic and Black and White magazine.
View Jeanne's Curriculum Vitae»